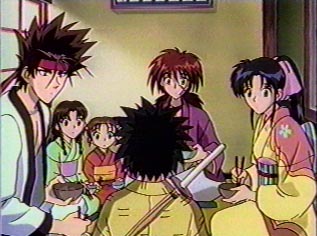 A cute group of Sano, Ayame, Suzume, Kenshin, Kaoru, and Yahiko's back from TV episode 12, with matching hand-painted background. The Kenshin-gumi are enjoying a meal at the Akabeko, and are currently staring at Yahiko because he seems strangely uninterested in food. Must be his new girlfriend....

This is a multilayered key cel. I'm very happy to have a nice shot of the gang together, and I also really like the background. I realized after looking at my scan for a while, that something looks weird about it. The problem is that I liked the background so much I scanned it in two pieces separately from the cel, then scanned cel with background and superimposed it. Just go ahead and imagine the registration holes and sequence numbers that were cut off by the scanner at the top of the cel. :-)

Also from this episode, I have a cel of Kaoru, and one of Yahiko.