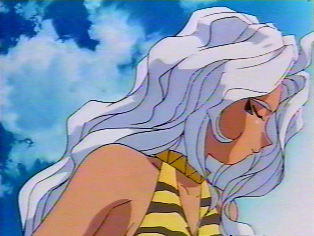 Urd, from OAV2 of Aa! Megamisama (to avoid the Oh/Ah debate). Nice bathing suit....

This is an A1 cel, demonstrating that key cels are not always the best poses...but, hey, it's Urd, coolest of the three Norns. :-)

The horizontal lines on the cel image are an artifact of my scanner, and the green background is an artifact of my not bothering to take the cel out of its frame to scan it.